Affordable Screen & Patio Enclosures, Inc.
Where Quality and Affordablity
Come Together
Work With the Best Patio Contractor in
Kenosha, WI
At Affordable Screen & Patio Enclosures, Inc., we take pride in being the preferred patio contractor for our neighbors and their families in Kenosha, WI. For over 30 years, we have been providing families with the most enjoyable, stylish, and functional patios and outdoor living spaces in the area.  
We can confidently say that you are no stranger to our work. We have serviced hundreds of homeowners in Kenosha and the surrounding areas, so it's likely that if you've been captivated by the beautiful outdoors while strolling around, you've seen an example of our craft. We'll be happy to bring the highest quality work to your home as well.
Our attention to detail is unmatched and the cornerstone of our company. After decades in the industry, we have the knowledge and experience to give you the best services while respecting your budget, and you can be sure that no job is out of our scope. Whether you have a small porch or a larger outdoor area, our work will be just as impactful to enhance your home.
Come visit our showroom, free estimates available.
Affordable Screen & Patio Enclosures, Inc.
Get an Impeccable Patio Design to Upgrade
Your Home
* IMPORTANT * 1. Really Important not to delete the pattern background on this section. It is named: "New Law 3 Bg 1" 2. On the section below make sure to set the right H title <h2></h2>, usually it should be H2 but it can change depending on copy.
Our patio team knows that the key to a successful project is working closely with our clients to make sure we turn your visions into realities. Upgrading your home should be a memorable experience and we strive to make it so. That's why we are known for building solid and lasting relations with our clients.  
Even if you only have an initial concept of what you want to carry out, our skilled professionals will be happy to work with you to give shape to your ideas. Our team specializes in building difficult and complex enclosures, and we'll be glad to help you improve your outdoor spaces with a variety of options, including:
3/ 4 Season Rooms
EZE Breeze Windows
Patio Covers   
Screen Lanai 
 Screen Rooms
Screen Porches
Carports
Wood Decks
Let's Make Your Home an Even More Enjoyable Place
If you are considering giving your home a makeover to achieve more comfort and productivity, we'll be glad to start working with you now. We'll make sure you finally get that special place you've been wanting. Rest assured that we are fully licensed and insured contractor, with LN# DC091800063 and DCQ091800058.
For your convenience, we'll be glad to offer a free estimate. Call us at: (262) 455-7123, or fill out our quick contact form.
Our services are also available in:
Vernon Hills

Gurnee

Wadsworth

Libertyville

Milwaukee

Lake Geneva

+ Surrounding areas
Had a deck cover installed at my Lake Geneva home . Dave came out and spend time getting to know what we were looking for and our usage and price level . He provided 3 options for our review . He returned and confirmed all measurements and made drawings for permit approval and scheduled installation after getting confirmation of parts delivery . Eric & crew came and confirmed exactly what was to be done with my wife and I and completed the install and clean up in 2 days . It came out great ! My wife and I are very pleased with the entire project and how the staff & crew were very professional and quick to answer and address any issues . Highly recommend doing business with this company .
Replace carport and shed. Very polite, knowledgeable & professional. Crew worked together very well. Would highly recommend. Thanks again guys.
Great company, knowledgeable, prompt and a great product!
Share review Embed review Write an update Edit review 10/2/2020 I love love love my new patio cover and enclosure!!! I recently moved to Wisconsin from Florida, and brought all my FL patio furniture with me. The house I bought In Wisconsin had a huge backyard patio concrete slab, but that was it. No protection from weather & bugs, no privacy, no coziness, no nothing. I spoke with Dave, the Owner and he came to my house for a free consultation. He was awesome!!! Listened to my needs and wish list (which trust me, was long & a bit muddled since I wasn't really sure what could be done to accomplish all the things I wanted . . . and stay within my budget). Dave was super nice, professional and extremely knowledgeable and offered up several suggestions/ideas to achieve what I wanted. And the rest was history. 🙂 I now have a beautiful patio cover which protects me & my furniture from the sun & rain (and from the snow when it comes). E-Z Breeze windows keep out the bugs & allow the breeze to flow thru when it's hot out, but close up to keep it snug when it's cool out. And, last but certainly not least, Dave used a special Sunscreen in the EZ Breeze windows that face my neighbor's house which gives me the privacy I was wanting.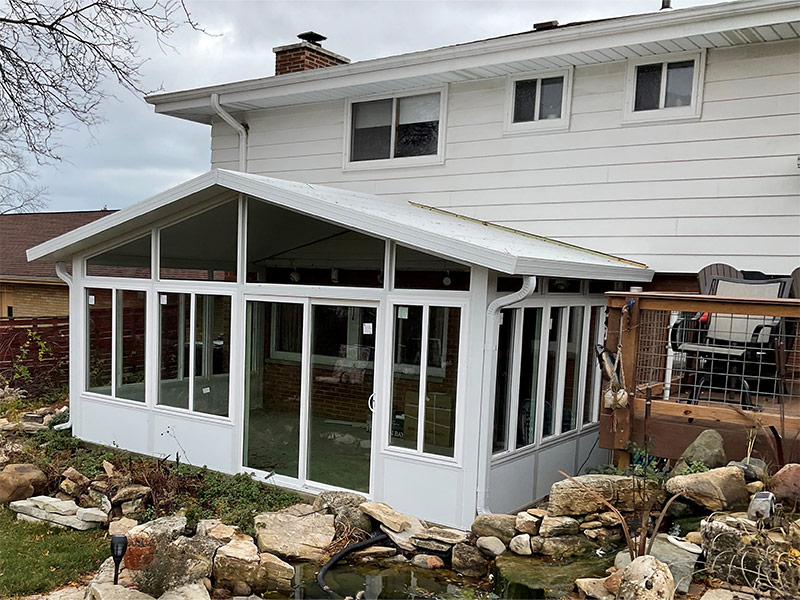 20% off all 3 and 4 season rooms up to $5,000
15% off all pergola covers up to $3,500
15% off all screen rooms up to $3,500