Get a Premier Quality Covered Patio in
Kenosha, WI
Treating yourself and your family to a covered patio is always a great investment. Sunrooms are a fantastic addition that allow you to enjoy the outdoors and relax without being bothered by unpleasant weather conditions, dust, or insects. At Affordable Screen & Patio Enclosures, Inc., we have over 30 years of experience improving the lives of homeowners in Kenosha, WI, and giving them a spa-like experience in the comfort of their houses. 
Our team has experience designing and building outdoor covered patios of different sizes and materials, including:  
Aluminum

Structural vinyl

Engineered roof panels

Insulated and thermally broken glass  
Whatever your needs are, and no matter the scale of the project, our team is ready to help you renovate your home with a gorgeous covered patio. Our experts can take on grand-scale projects, as well as perform modest changes that will completely enhance the enjoyment of your outdoor living spaces. 
A Spa-Like Retreat Ambience at Home
Our team will be glad to work with you to turn your patio design ideas into a reality, but first, let's consider a few important things: homeowners usually have to choose between getting a 3-season or a 4-season covered patio. They're both stunning additions to your house, there's no doubt about that, but they offer different benefits that are worth taking into account:
A 3-season sunroom will allow you to enjoy the outdoors during summer, spring and fall months. They're not meant to endure the lowest temperatures because they usually have an aluminium frame. This makes them a great affordable option, and because they can be built over existing patio structures, they take less time and are less invasive.
A 4-season sunroom, as the name suggests, will be there for your enjoyment all year round. Because of their thermally-engineered framing, the harsh winter temperatures won't be an impediment for your comfort, and they are built so that the heating and air conditioning systems are connected to the main house. They can add at least 55% of return on investment!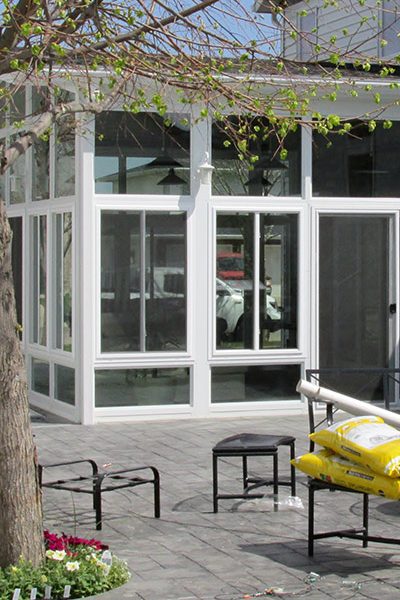 Let's Start Building the Sunroom of Your Dreams Today!
Getting a covered patio is a decision you won't regret. It will bring new life to your home and, an expertly done work such as the one we carry out guarantees that it'll become the hub of the house. Don't be surprised if you find yourself spending more time here than inside your house! 
For your convenience, we'll be glad to offer a free estimate. Call us at: (262) 455-7123 to speak with an expert patio builder, or fill out our quick contact form.
Our services are also available in:
Mundelein

Zion

Pleasant Prairie

Oak Creek

Lincolnshire

Grayslake

+ Surrounding areas